"0.2% Chance of Survival"
is the third episode of the
Blue Jacket
series. It first aired in Italy on August 30, 2015, and later in Japan on October 15, 2015.
Synopsis
Lupin and Jigen are in San Leo to steal a fragment of a necklace owned by Marie Antoinette, but they are pursued by MI6 Agent Nyx. Meanwhile, Rebecca is hanging out with the Prince of England, who is on a visit in Italy.
Characters
Percival Gibbons (Voice: Shinshū Fuji)
An MI6 agent, Nyx's reporting superior.
Prince James of England (Voice: Shimizu Hidemitsu)
Apparently one of Rebecca's personal friends.
Staff
Screenplay: Yuya Takahashi
Storyboard: Toshihiko Masuda
Production: Yasumi Mikamoto, Kazuhide Tomonaga
Animation Direction: Yukari Kobayashi, Daisuke Sako, Hiroaki Noguchi, Yumiko Shirai, Teiichi Takiguchi
Chief Animation Director: Koichi Suenaga
Trailer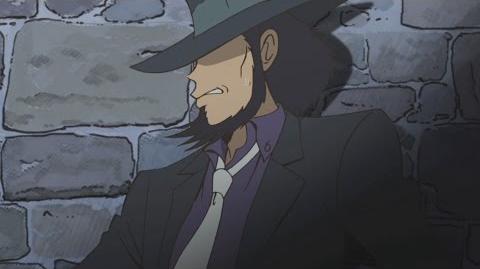 Ad blocker interference detected!
Wikia is a free-to-use site that makes money from advertising. We have a modified experience for viewers using ad blockers

Wikia is not accessible if you've made further modifications. Remove the custom ad blocker rule(s) and the page will load as expected.