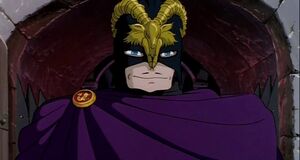 Count Cagliostro is the main antagonist of The Castle of Cagliostro. he is based on a real life count of the same name, who lived during the French Revolution and was thought to set the civil war off. He ultimately dies by being crushed between the arms of a clock tower.
Ad blocker interference detected!
Wikia is a free-to-use site that makes money from advertising. We have a modified experience for viewers using ad blockers

Wikia is not accessible if you've made further modifications. Remove the custom ad blocker rule(s) and the page will load as expected.