Arsène Lupin II was the son of the legendary Arsene Lupin , who took up his father's mantle as a notorious thief. Sometime during his later career, Arsene sired a son who was third in line to be named Arsene Lupin. Not much is known about the thief or his actual whereabouts, as conflicting sources claim him to be deceased but it's safe to presume that he is most likely deceased. 
Death
According to volume 2 of the manga, Lupin II was killed in a train bombing by a villain called King who sought to take over the "Lupin empire." This was also meant to kill Lupin III, but only badly wounded him. This, however, took place in a story that should be considered negative continuity as other backstory is provided that is never followed up on, namely Jigen and Lupin III having been childhood friends and Jigen having a sister (who was being held hostage by King). In the same story, Fujiko's father was a man who looked remarkably like Zenigata and went by the name Doctor. Therefore, this is an example of Monkey Punch's use of multiple choice backgrounds for the main characters, which should be taken lightly by the reader.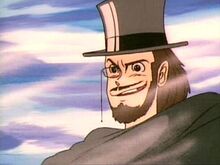 Ad blocker interference detected!
Wikia is a free-to-use site that makes money from advertising. We have a modified experience for viewers using ad blockers

Wikia is not accessible if you've made further modifications. Remove the custom ad blocker rule(s) and the page will load as expected.