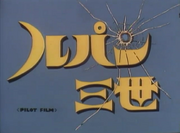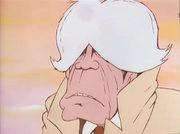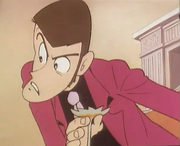 Summary
The Pilot film was mainly a introduction to each of the five major characters as well as a retired detective named Kogoro Akechi, who never really appeared in anything after the pilot film. Goemon Ishikawa is also in the film as an enemy of lupin like he was in the first few episodes of the first series. Overall the animation style and most of the voice acting is unique to this pilot film.
Production and Releases
Following the sucess of the Lupin III manga, TMS Entertainment and Toho created this 12 minute animated film. There was both a Theatrical and TV version of this film which had some minute differences in voice acting and the film's aspect ratio. When the film was finished in 1969, it never saw release in theaters due to various constraints and similar issues. It was released as part of the "Lupin III Secret Files" collection in 1989. Discotek included the film as a bonus feature in their American release of the 1st series.
Trivia
 The first anime series (aka the Green Jacket series) recycled footage from the pilot for the opening intro & credits. Some of it was modified so Lupin wears the green suit rather than the red one in the pilot.
The scenario from later on in the film was re-used in the episode "The All-Together Playing-Card Operation" of the 1971 series, the ending of both moments use the same method of escape.