The End of Lupin III is the thirteenth episode of the Blue Jacket series. It first aired in Italy, as the fourteenth episode in the broadcast, on September 28, 2015. It aired in Japan on December 24, 2015. The story bears similarities to the Green Jacket episode "One Chance to Breakout".
Synopsis
Lupin is arrested and thrown in prison. Zenigata transfers him into an impenetrable cell on an island and becomes his personal guard, hoping this time he has Lupin for good. He cooks him all his meals by hand, expecting for the rest of the crew to show up. They don't come and Lupin stops eating. Is this the end of Lupin III?
Plot
Spoiler warning!
This section contains plot details about an upcoming episode.
Staff
Script: Yuya Takahashi
Storyboard: Nobuo Tomizawa
Production: Keiko Oyamada, Taku Yamada
Animation direction: Tomonori Kogawa, Yumiko Shirai
Chief animation directior: Koichi Suenaga
Trailer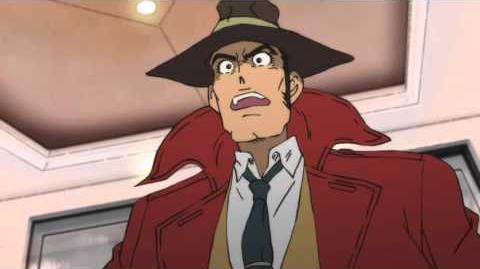 Ad blocker interference detected!
Wikia is a free-to-use site that makes money from advertising. We have a modified experience for viewers using ad blockers

Wikia is not accessible if you've made further modifications. Remove the custom ad blocker rule(s) and the page will load as expected.