"The Fake Fantasista"
is the second episode of the
Blue Jacket
series. It aired in Italy on August 30, 2015 and in Japan on October 8, 2015.
Synopsis
The star player of the San Marino national football team, Mauro Brozzi, is being blackmailed by entrepreneur-mafioso Riccardo Mondini with medical records containing evidence of doping. With Fujiko's help, Brozzi reaches out to Lupin and ask him to steal the medical records from Mondini, so that he will not be disqualified from the championship final.
Characters
Mauro Brozzi (Voice: Fuminori Komatsu)
The star of the San Marino football team, nicknamed "San Marino's national treasure" by his fans.
Riccardo Mondini (Voice: Takaya Hashi)
Ostensibly the CEO of a jewellery company, but also famous in the San Marino criminal underworld.
Staff
Screenplay: Tomohiro Suzuki
Storyboard: Hiro Kaburagi
Production: Takuma Hirabayashi
Animation Director: Hatsuki Tsuji, Hirotaka Nii
Chief Animation Director: Teiichi Takiguchi
Trailer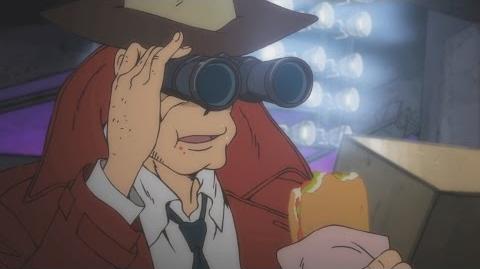 Ad blocker interference detected!
Wikia is a free-to-use site that makes money from advertising. We have a modified experience for viewers using ad blockers

Wikia is not accessible if you've made further modifications. Remove the custom ad blocker rule(s) and the page will load as expected.