"The Italian Dream (Part One)" is the eleventh episode of Blue Jacket.
Synopsis
Rebecca has been kidnapped by the British intelligence agency MI6. Lupin comes to the rescue! Before she was kidnapped Rebecca attempted to decipher the mystery of a book that a genius scientist was left behind, the so-called "Italian Dream".
Characters
Plot
Spoiler warning!
This section contains plot details about an upcoming episode.
Staff
Script: Yuya Takahashi
Storyboard: Kawaguchi Keiichiro
Production: Takuma Hirabayashi
Animation direction: Yuya Takahashi, Hiroaki Noguchi
Chief animation director: Hisao Yokobori
Shinya Ohira also contributed key animation for this episode in his signature expressionist style, which is visible in a fight scene with Nyx.[1][2]
Trailer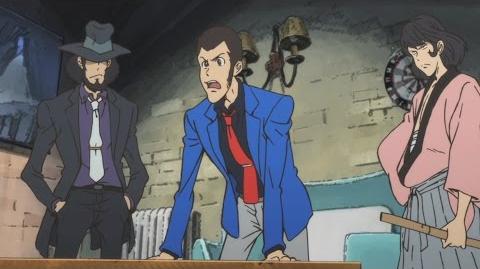 Gallery
References
↑ "Shinya Ohira". Anime News Network Encyclopedia. Retrieved December 15, 2015.