"The Lovesick Pig" is the tenth episode of Blue Jacket. It aired in Italy on September 20, 2015, as the eleventh episode in the broadcast, under the title Nettare d'amore (Italian: Nectar of Love). It aired in Japan on December 3, 2015.
Synopsis
Fujiko and Rebecca invite Lupin to the same wine-tasting event, where a valuable aphrodisiac wine is being showcased.
Staff
Screenplay: Erika Yoshida
Storyboard: Masatsugu Arakawa
Production: Ryōsuke Senbo, Toshihiro Maeya
Animation direction: Yukari Kobayashi, Koji Yamakawa
Assistant animation direction: Keizo Shimizu, Sakurako Sagano, Asuka Kurokawa, Ippei Masui
Chief animation director: Teiichi Takaguchi
Trailer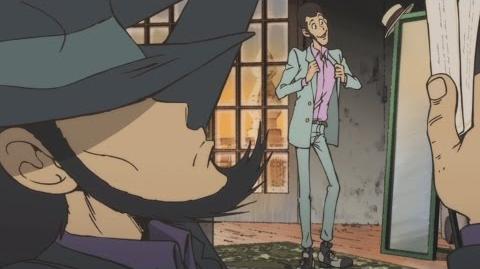 Ad blocker interference detected!
Wikia is a free-to-use site that makes money from advertising. We have a modified experience for viewers using ad blockers

Wikia is not accessible if you've made further modifications. Remove the custom ad blocker rule(s) and the page will load as expected.